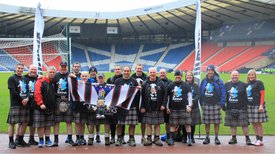 Dunfermline Kiltwalkers are recruiting new team members to embark on next years challenges. We are planning on holding and taking part in loads of new and exciting events for 2014. We are looking for people to come on board and get involved with these events and bring some fun and energy to them all. This year Dunfermline Kiltwalkers raised £20,000.00 which was distributed between several local and national charities including Home Start, CHAS, Aberlour, Sick Kids, Yorkhill, CLIC Sargent, TACC, Touch Primary School, KIng's Road Primary, 41st Beavers, Elgin Star FC and West Fife Phoenix FC. With cheques ranging from £70.00 to £8500.00. For 2014 we are looking to raise much more than this to fund an exciting project within the community (more details will be available later). So, if you would like to get involved please contact mike@dunfermlinekiltwalkers.co.uk .
Dunfermline Kiltwalkers held a charity fun day on Sunday 14th April. This began with Dunfermline's very first Kilted 'Wee Walk' in Pittencrieff Park. The weather was horrible but around 150 of you turned out to do your bit for Scottish children's charities and local groups and clubs. This was a 10k sponsored walk to help local community groups raise valuable funds for themselves and for The Kiltwalk charities. The walk was started by Lord Provost and Pars Legend Jim Leishman who done his best to get you all going to Gangnam Style along with the help of pipers from Inverkeithing Pipe Band. After the walk, all 'Wee Walkers' were then invited along to East End Park to cheer on our DAFC & Kiltwalk charity football match, where members of the public teamed up with Pars Legends such as Hamish French, Andy Tod, Scott Thomson and Gerry McCabe to name a few and the teams will be managed by Roy Barry and Bonar Mercer. The game was fiercely contested by both teams with the Black & Whites beating the Reds 6 - 5. There was face painting, fun and games at half time with a penalty shoot out - withmatch tickets presented to the winner. After the match we had an inflatable bungee and bouncy castle in Legends Bar, with live music from Stevie Agnew and Missing Myla.
We are now in the final week of preparation for our big walk from Hampden Park to Loch Lomond (26 miles). There are a few of us doubting our ability to complete the walk, but sure the banter will get us through and the thought that we are helping Scotland's less fortunate children have a better life.
Kiltwalk 2012
On Easter Sunday this year Community Coach, Gregor Tennant and a group from the first DAFC Football Fans in Training course completed the 26 mile charity Kiltwalk from Hampden Park to Loch Lomond raising £5294.00 for disadvantaged children in Scotland.
The proceeds from this sponsored walk will go to some of Scotland's best loved charities including Aberlour Child Care Trust, CHAS, CLIC Sargent and The Tartan Army Children's Charity.
In addition to that, the Kiltwalkers taking part also get to choose their own charity who receive around half the money they raise as a team. The DAFC team chose Home Start in Dunfermline, and presented a large cheque to Charity Representative, Kim Wylie, at the DAFC v Livingston match at East End Park on September 22nd.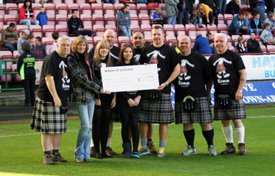 Home Start is a nationwide charity (with offices in Dunfermline) which supports almost 77,000 vulnerable children across the UK, helping them cope with post-natal illness, isolation, bereavement, disability, domestic violence and much more.
Home Start seemed an ideal choice as DAFC is very committed to being at the heart of the community in Fife with a strong focus on family, children and young people. In addition, there is a personal connection amongst the DAFC Kiltwalk team to Home Start. Mike McManus, one of the team members, and his family have been supported by the charity for a number of years. Mike commented "we felt it was time to say a big thank you to Home Start who have helped me and my family through some hard times."
Laura Kay, Home Start Senior Co-ordinator added "We really appreciate the amazing efforts of the team who completed the Kiltwalk on our behalf. They have raised a fantastic amount of money that will enable us to provide the "extras" for our families that we wouldn't be able to do otherwise, such as trips and Christmas celebrations, which are, of course, extremely valuable experiences for young children and their families. It will also allow us to recognise and acknowledge the wonderful work done all year round by our volunteers, without whom we would not be able to provide much needed support to families."
Gregor and his team are already preparing to take part in next year's Kiltwalk, taking place on 21st April 2013. Gregor added "it was an amazing experience being involved in an event like this and the boys from Football Fans in Training worked hard at their fitness to complete the 26 miles. We'd like to say a big thank you to everyone who sponsored us and to The Kilt Company for loaning us the DAFC tartan kilts, especially Elsie Rennie and Shelia West who fitted the kilts and made sure they didn't fall off us on the day! Also thanks to Neil's Coaches who supplied transport to and from the walk. It was a team effort and it's great to hand over such a big cheque to such a vital charity as Home Start."
Here is a wee clip of the Dunfermline Kilted Wee Walk. Thanks to Tour Scotland for this.